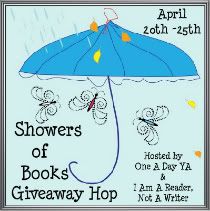 It's the Showers of Books Giveaway Hop, hosted by One A Day YA and I Am A Reader, Not A Writer.
Gotta love those rainy days... when the best thing to do is just stay inside.. listen to the rain.. and curl up with a good book!
Well I'm giving away the perfect set of books for those rainy days!!
Here's your chance to win
The Vampire Academy Box Set!!!
This is the first three books in the Vampire Academy Series
This series is incredibly AMAZING and ranks at near the TOP of my favorites list!!! I'm sure most people have read these books already! But if you haven't.. here's your chance to read something AWESOME!!!
Just fill out the rafflecopter after the break! And cross your fingers! Your gonna wanna win this one guys! Trust me!
Open International!
And the winner is

Jenny B - JennyBeeReading

Congrats!!!! Hope you enjoy your books!!!
Thier pretty awesome! Just sayin! ;)